Posted by:




Category:


macOS Games, MacOS

macOS Games, MacOS

System:




macOS

Price:


USD

0

Download:


224
You are looking for a game with enough creativity to help your imagination soar. Besiege For MacOS X is a game that is described as a cross between a Minecraft blockbuster and a LEGO intellectual puzzle game in terms of building strange machines.Come with us to find out if there is anything or not!
I. Plot
Return to the Middle Ages, but instead of exploring new lands or defending your territory, you have only one goal: build deadly machines.
These machines are responsible for destroying enemy soldiers' battalions, transporting valuable resources, and protecting structures against enemy guns. Gamers will experience the feeling of conquering all kingdoms by paralyzing castles and their soldiers.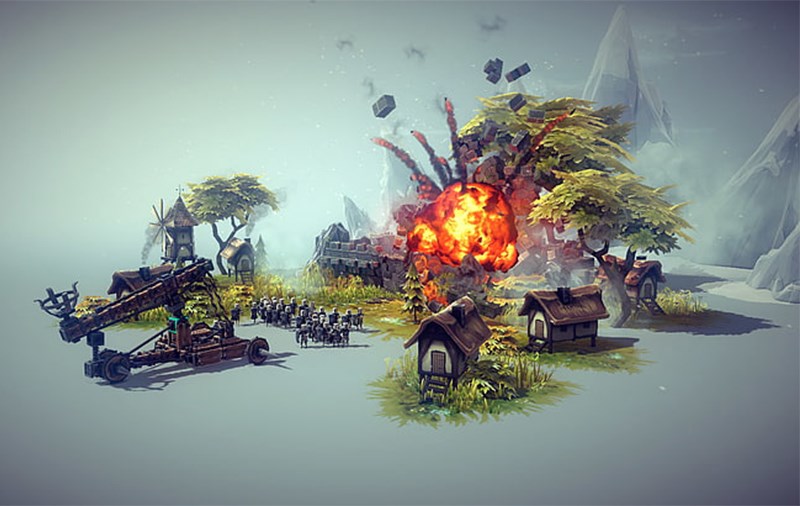 II. Gameplay
1. Gameplay
Game Besiege For macbook gameplay is mainly geared towards the player's creativity. The game will give you the same pieces as in the LEGO game, including gears, machine guns, propellers, springs, wheels, etc., so you can arbitrarily assemble them into a fighting machine as you like.
These machines have many shapes and combat functions, such as shooting bullets, moving like robots, or rolling like tanks.
You can try play: Game ARK Survival Evolved For macOS
One thing to keep in mind is that the effects that players make in each part are affected by physical mechanics, which requires you to brainstorm to put everything together properly. If not careful, the player's machine may collapse before it can be brought into battle.
2. Mission
The player's main task in the medieval world is to use self-designed machines to destroy everything from villages to enemy strongholds.There are thousands of constructions that you can create in the game, such as catapults, airplanes, or even machines with all four limbs that can move like a real robot…
The more modern the machines, the greater the destructive power; it all depends on the creativity of the gamer.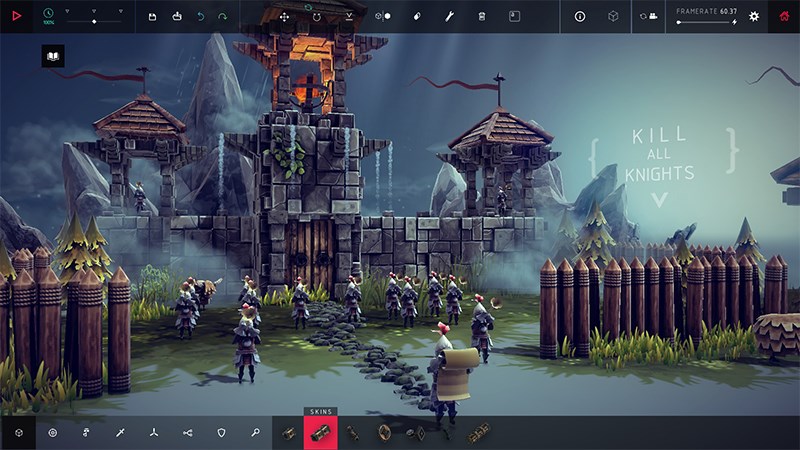 3. Crafting Tools
To build the machines, you will need the Build Surface, which will include a lot of tools and simple but highly customizable blocks. These blocks are made from wood or glass, and they will react differently when attacked.
With a simple mesh mechanism, just select four points on the grid, and we have created a block with the selected shape. Each block has its own aerodynamic characteristics, which unlock many abilities and power systems for it. There are a total of 70 types of blocks for you to comfortably assemble.
4. Combat vehicles
Players have the opportunity to promote their creativity by, for example, creating a flint machine to not only destroy but also burn down the entire enemy squad or a car with a super-large wheel with a blade attached to crush the enemies. The soldier is jumping at you.
Although Game Besiege For macbook is set in the Middle Ages, gamers can completely create modern vehicles such as tanks, cars, bombers, helicopters, and space ships.
5. Game Mode
Game Besiege For macbook has countless game modes for you to freely experience. Sandbox Game Mode with three creative levels is included, and you can activate Limited Build Mode in any level.In addition, players can also adjust the speed of the battle screen; for example, slow it down to see details.
III. Graphics and sound
1. Graphics
Besiege possesses beautiful graphics, and the architecture is designed in 3D with a medieval style that is no less modern. Magical explosion effects and an extremely realistic physics engine help players have creative moments beyond all limits.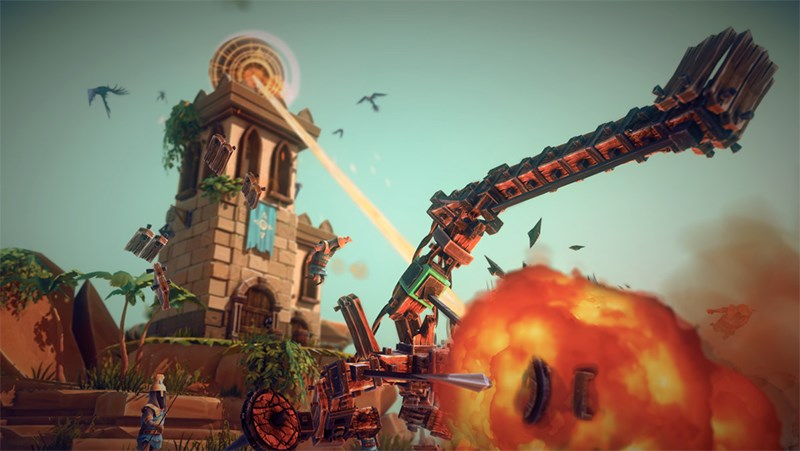 2. Sound
In addition to the graphics, the sound also contributes to the success of this game. Background music is interlaced with each screen to create real emotions for players. The sound of fights or knocks to create a fighting machine sounds very rhythmic and catchy, creating a feeling of not being boring.
Coming to Besiege, you will not only be immersed in tough battles but also promote your creativity to create a machine with high damage. What are you waiting for? The screen does not quickly download the game so that you can experience it right away. If you have any questions about the game, please leave a comment.
You can download more great games for macOS here: Best game for macOS